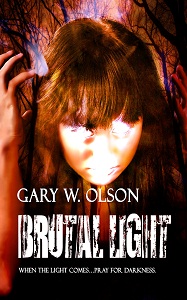 "When the light comes… pray for darkness. All Kagami Takeda wants is to be left alone, so that no one else can be destroyed by the madness she keeps at bay. Her connection to the Radiance–a merciless and godlike sea of light–has driven her family insane and given her lover strange abilities and terrible visions. However, the occult forces who covet her access to the Radiance are relentless in their pursuit. Worse, the Radiance itself has created an enemy who can kill her–a fate which would unleash its brutal light on a defenseless city."
About nine months ago, my first and so far only novel, Brutal Light went out of print and e-print after I regained the rights from its former publisher. I'd meant to bring it back sooner, but, between moving and family drama and my secret life of fighting crime in spandex, there just wasn't time.
Until… waiiiiit for it… riiight about… now!
Brutal Light is now back, and… well, still the same book as before. Only now it's available only from Amazon, in e-book and in print. I've improved the formatting on both–the Kindle edition now doesn't have spaces between paragraphs, and the print edition has less tiny print (and the title is actually visible on the spine). The prices are down to somewhere in the vicinity of reasonable: $2.99 for the Kindle edition, and $9.99 for the print edition.
For more, including an excerpt of the prologue, check out my Brutal Light page.
***
Gary W. Olson is the author of the dark fantasy novel Brutal Light and a contributor to the dark fiction anthologies Fairly Wicked Tales and The C.A.M. Charity Anthology: Horror and Science Fiction #1. His blog originates here. Brutal Light cover art by Dawne Dominique.