Brutal Light – Trailer, Ordering Info, Excerpt, Guest Blog/Interview Links, and Reviews
The new edition of Brutal Light (originally published in December 2011) came out in August 2017, and is available exclusively from Amazon.com:
"All Kagami Takeda wants is to be left alone, so that no one else can be destroyed by the madness she keeps at bay. Her connection to the Radiance–a merciless and godlike sea of light–has driven her family insane and given her lover strange abilities and terrible visions. But the occult forces that covet her access to the Radiance are relentless in their pursuit. Worse, the Radiance itself has created an enemy who can kill her–a fate that would unleash its brutal light on a defenseless city…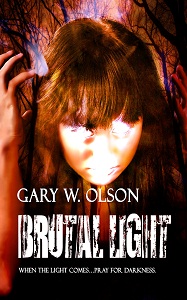 "Rhea Cole is also on the run, after murdering her husband with a power she never knew she had–a power given her by a strange girl with a single touch. Pursued by a grim man unable to dream and a dead soul with a taste for human flesh, she must contend with those who would use her to open the way to the Radiance, and fight a battle that stretches from the streets of Detroit to a forest of terrifying rogue memories."
Brutal Light is a supernatural dark fantasy novel set in modern day Detroit, and was my first published novel.
***
Excerpt
Want a sample? Check out the full prologue to Brutal Light:
Prologue: Blood in the Black Water
***
Reviews
"I thoroughly enjoyed Olson's style of writing, his evocative and efficient prose which was both easy to read and added interesting colour…" — Fantasy Book Review (6.2/10) (No longer available.)
"Films such as Inception and The Matrix have featured worlds within worlds. If you liked these films then I believe you would also appreciate Brutal Light." — Lee Mathers' review on GoodReads (5/5)
***
More Guest Blogs and Interviews
1/18/2012 – Guest Blog on Ash Arceneaux's site: Writing, Rewriting, Impending Apocalypse, and Everything After – All about my writing and rewriting process on Brutal Light, including the pivotal role played by Jaranash'ghthk the Indweller of Night. (No longer available.)
2/29/2012 – A Cup of Coffee and a Good Book – My first audio interview, talking with Greg Walker (subbing for Jennifer) about Brutal Light, writing in general, dark fantasy, where I get my ideas, and other such things. (No longer available.)
5/1/2012 – I was interviewed by Jake Elliot, author of The Wrong Way Down. (No longer available.)