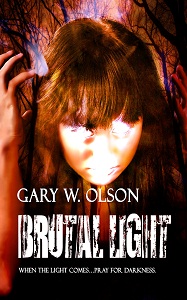 Just a quick reminder for Michigan folks reading this blog, today (Wednesday, October 24th, 2012), at 7 p.m., I'll be at Schuler Books & Music in Lansing, Michigan, participating in a multi-author panel discussion on paranormal fiction, then signing copies of my dark fantasy novel Brutal Light and the dark fiction anthology in which I have a short story, Fading Light: An Anthology of the Monstrous. Then tomorrow, I'll be selling and signing even more copies of Brutal Light and Fading Light at the public library in Davison, Michigan… which will also be a multi-author event, the Flint Fang Fest Book Signing. Addresses for both are on the other end of the links.
Also, congratulations to Jen Lavinski, the commenter who won the PDF copy of Karina Fabian's Neeta Lyffe 2 that I was raffling off last week!
***
Gary W. Olson is the author of the dark fantasy novel Brutal Light and a contributor to the dark fiction anthology Fading Light. His blog originates here. Brutal Light cover art: Dawne Dominique.