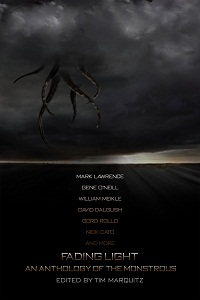 It's been about two weeks now since Fading Light: An Anthology of the Monstrous (which includes my short story "Goldilocks Zone") dropped on readers like Godzilla on Tokyo, and it seems to be doing pretty well in sales so far. There was an issue with the manufacture of the print version of the books (e-books were not affected) due to some snafu by CreateSpace (the print was riddled with boxes with x's in them). So if you got this print version via Amazon, you can either return it to Amazon for a refund, or return it to Amazon and get a corrected copy back. In addition, by way of apology (even though the fault was not on their end) Angelic Knight Press will gift you any two books from their library of titles (print or e-book).
There's a giveaway of a couple of those (corrected) paperback copies going on over on Goodreads. Enter by October 1st for your chance to win one!
Reviews have been coming in for FL, by and large very positive. The Horror Fiction Review gave FL a very good review. Another good one popped up on Fantasy Book Critic. Plus more reader reviews have been coming in for the main volume and the companion on Amazon. Also, Goodreads.
Editor Tim Marquitz was interviewed by Lee Mather on his Livejournal about FL, his upcoming publications from Genius Book Publishing, what's next in the Blood War trilogy, and more.
On Fantasy Book Review, contributor Gef Fox talks about where the idea for his story, "Where Coyotes Fear to Tread" came from. He also talks about the anthology in general on his own site.
***
Gary W. Olson is the author of the dark fantasy novel Brutal Light and a contributor to the dark fiction anthology Fading Light. His blog originates here. Fading Light cover by Jessy Lucero.