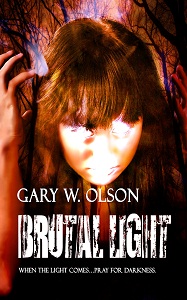 I originally wrote this in December 2011 as part of my Brutal Light blog promo tour. As the blog it originally appeared on no longer exists, I'm reposting it here. Yay?
One of the things I'm frequently asked about are my influences. As someone who's read a lot, in a lot of genres, that's a topic I can go on about for quite a while–the list of authors range from Stephen King to Terry Pratchett to Michael Connelly to Clive Barker to… well, you get the idea. But even within this list, there are certain books I can pick out that exerted great influence on both my reading choices and my storytelling style. I can't rightly say how much any particular one of these examples influenced me when it came to writing my debut dark fantasy novel Brutal Light, but collectively, I think it's safe to say they left their mark. Here are seven books that made me, and my writing, weird(er):
At the Mountains of Madness by H.P. Lovecraft
This was not my first introduction to Lovecraft–that had been the wonderfully-titled Bloodcurdling Tales of Horror and the Macabre, a collection of some of his short fiction–but it was the one that left the deepest impression on me. The deliberate, atmospheric pacing of this journey into the ruins of a lost civilization had me on edge the first time I read it, and it excited my mind around the details of what would later become the Mythos the way it had not quite been before.
The Illuminatus! Trilogy by Robert Shea and Robert Anton Wilson
This one took a while to win me over–at first I didn't know what to think of the careening strangeness of the narrative and the hyperbolic mix of what I assume is every conspiracy theory out there up to the point of the novel's publication. Then at some point, maybe a hundred pages in, it started gelling, and from that point I was hooked. It's lost a little of its lustre over the years–the conspiracy stuff is a bit dated, and some passages seem more juvenile than provocative–but overall it's still a hell of a trip.
Valis by Philip K. Dick
Valis was my introduction to Philip K. Dick's strange and addictive works. Probably it wasn't the best one to start with; it came at a point late in his career and life where he was evidently not too concerned with being 'accessible.' It's a bizarre story to begin with, with its main character, Horselover Fat, contacted directly by God via a mysterious pink laser. Then it gets stranger, as Horselover seeks to understand his experience, with esoteric theories and crackpot paranoia continually throwing the events of his life into newer and weirder lights. I just recently re-read this one, and its as baffling and entertaining as I remember.
Dead Boys, Dead Girls, Dead Things by Richard Calder
By the time I got to this book, I'd read my share of cyberpunk science fiction, and had my head spun around by the likes of Philip K. Dick and Robert Anton Wilson. I thought I was ready. But I don't think anything could have prepared me for the convoluted, paranoid, utterly perverse, high-voltage trip that is the Dead trilogy. The first book, Dead Boys, makes at least a passing attempt at a standardized story structure, but the next two sail off into rampaging, obsessive apocalyptic madness. This one left my head spinning for weeks. I really wish Calder's publisher would get his books into e-format; I'd buy them all in a heartbeat.
God Emperor of Dune by Frank Herbert
Now, I'd taken the first three books in the Dune series in stride. They were fine, weird beasts in and of themselves, full of complex ideas and strange events. But this one trumped them all. It took me a long time to really come to terms with Leto's merger with a sandworm and his transformation into a near-immortal, unstable tyrant, and to appreciate the paradoxical depths of the philosophical discussions within. It's a flawed book, certainly, but unlike anything I had read to that point (the mid-eighties, when I was an impressionable lad). One of these days I'll have to read it again, just to see if it stands up to my memories of it.
Zod Wallop by William Browning Spencer
While the idea of a book as a doorway into another world is hardly new, I was unprepared for how this book would affect me. The action takes place both in the 'real' world, where ex-children's book author Harry Gainesborough has escaped the institution where he was being treated for depression following the death of his daughter, and the world of Zod Wallop, the fantasy world of the books he wrote with said daughter as the central character. The transitions between worlds are seamless, and the climax is as emotionally stunning as I've ever read. It's a strange and amazing journey.
Imajica by Clive Barker
This was my introduction to Clive Barker. You might as well have dropped a bus on me. Barker's framework of a hidden world behind the superficial façade of this one completely drew me in with the depth of its obsessive detailing, the complicated story threads, and the sheer power of its metaphysical invention. It's a beautiful, perverse, and terrifying work–still my favorite of Barker's, and one that undoubtedly left its mark on my writing since.
***
Gary W. Olson is the author of the dark fantasy novel Brutal Light and a contributor to the dark fiction anthology Fading Light. His blog originates here. Brutal Light cover art: Dawne Dominique.