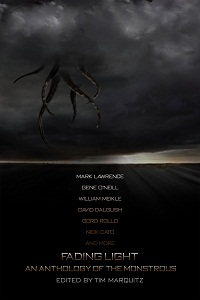 The day, she has arrived! Fading Light: An Anthology of the Monstrous, edited by Tim Marquitz, published by Angelic Knight Press, and including my short story "Goldilocks Zone", is now out and about for your reading pleasure!

Fading Light, for those just tuning in, is an anthology of thirty tales of monsters making their moves on the world of the living. The writing prompt was this:
"The light has failed: the era of man is at its end.
"Born of darkness, the creatures of myth, legend, and nightmare have long called the shadows home. Now, with the cruel touch of the sun fading into memory, they've returned to claim their rightful place amidst humanity: as its masters."
From that came an impressive set of stories, diverse in style, tone, genre, and monstrous vision. I read the early review copy a few months ago, and was thrilled to be included with such talented writers and strong tales. Hopefully, you'll enjoy them as well.
Fading Light is available today in print and for the Kindle from Amazon, and in a variety of e-book formats (.mobi, .pdf, .epub, etc.) from Smashwords. And don't forget the 99-cent e-book only companion volume, collecting five more monstrous tales (again, from Amazon and Smashwords).

FL already has a couple of good reviews, right here and here.
While I'm here, let me just also throw in some links to additional FL publicity that's come out in the past week:
The fourth multi-author interview was on the Fantasy Book Critic site: part one and part two.
Contributor Peter Welmerink wrote a guest blog for Fantasy Book Review on writing longform fiction vs. writing short stories.
Contributor Adam Millard wrote a guest blog for This Is Horror on reasons for reading at least one H.P. Lovecraft story.
Contributor Edward M. Erdelac wrote a guest blog for Fantasy Book Review hailing H.P. Lovecraft's recently passed birthday.

Aaaand… that's it for now, I think. Hope you enjoy reading the stories in Fading Light as much as the lot of us did writing them!
***
Gary W. Olson is the author of the dark fantasy novel Brutal Light and a contributor to the dark fiction anthology Fading Light. His blog originates here. Cover of Fading Light by Jessy Lucero.