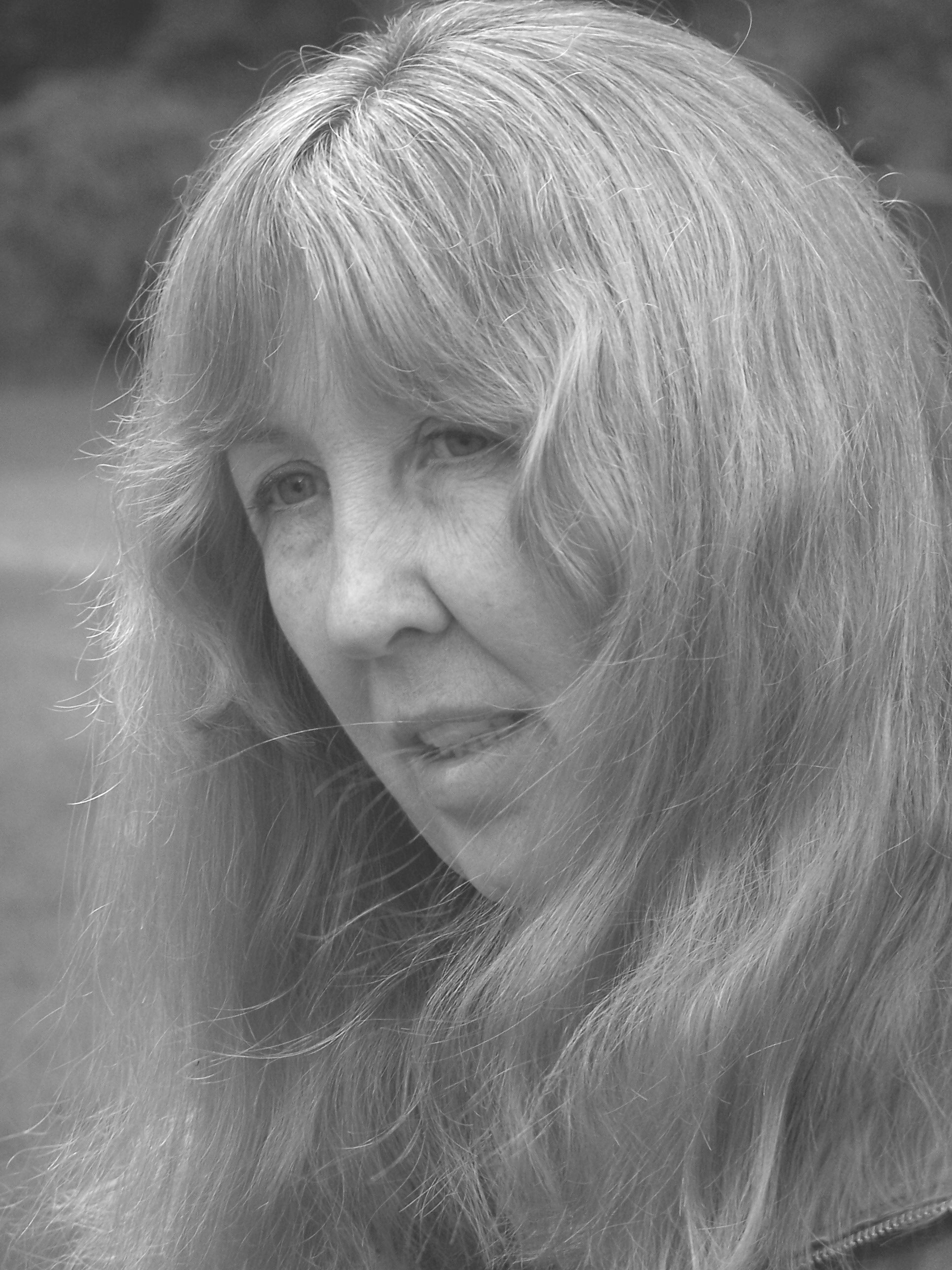 The Story Behind Blood Forge (Author's Revised Edition)
By Kathryn Meyer Griffith

1985. I'd just published my second paperback novel, The Heart of the Rose, an historical bodice ripper (remember those?) about a suspected witch in 15th century England amidst the War of the Roses political intrigues, with Leisure Books of Dorchester Publishing and my editor there asked me if I had another novel to show them yet.
It just so happened that, yes, I'd been working on a third novel; another romantic horror similar to my first book with them, Evil Stalks the Night (which will for the first time in 29 years also be out again, revised and updated, on July 1, 2012) I was tentatively calling With This Gun. The story centered around a scandalous love triangle/murder between police officers that had taken place in our small town years before and that I had firsthand knowledge of. Some of them had been my friends, as my first husband had been a police officer in town as well. The police force, their wives and families, had been a tight knit group, but the murder still came as a great shock to most of us. One of my husband's coworkers had been seeing another coworker's wife and the two were thinking of splitting up their respective marriages, both with children, to be with each other. The problem was, the cop being left didn't like it and shot the other cop dead in his house one day after being told what had been going on. It was terrible situation.
Well, I'd let the whole matter age for over a decade and was finally writing about it, sort of, as a way to free me of all the bad memories.
Now to the horror aspect. I'd use a possessed gun as a device to explain the killings the gun would be responsible for. Now I wasn't exactly a lover of guns, but I was married to a cop. Guns were part of our lives. Always in the back of my mind was what I'd say to people who didn't like the idea of me writing about a gun or hated guns: It isn't a gun that kills people… it's the person using the gun.
In this book, I gave an even better motivation. The gun made people kill because it was evil. This theme was what made it a supernatural story. A Colt Python would be possessed by an ancient demon; that the weapon had been forged from tainted iron or metal from the bowels of the earth centuries ago connected to that ancient demon-god. So the title Leisure eventually came up with was: Blood Forge (though I begged the editor to call it With This Gun or at least, Blood Forged, which made more sense, but no the publisher was determined to call it Blood Forge and in those days the author didn't any say so on that or the cover).
Anyway, in the book I'd follow that gun after its creation from unfortunate human to human as it made people crazy and murderous; created havoc in everyone's lives it touched. Until two people deeply in love have faith that they can defeat it…with the help of a mysterious priest (who may or may not be a priest at all). There are ways to get rid of a demon, no matter how strong it is.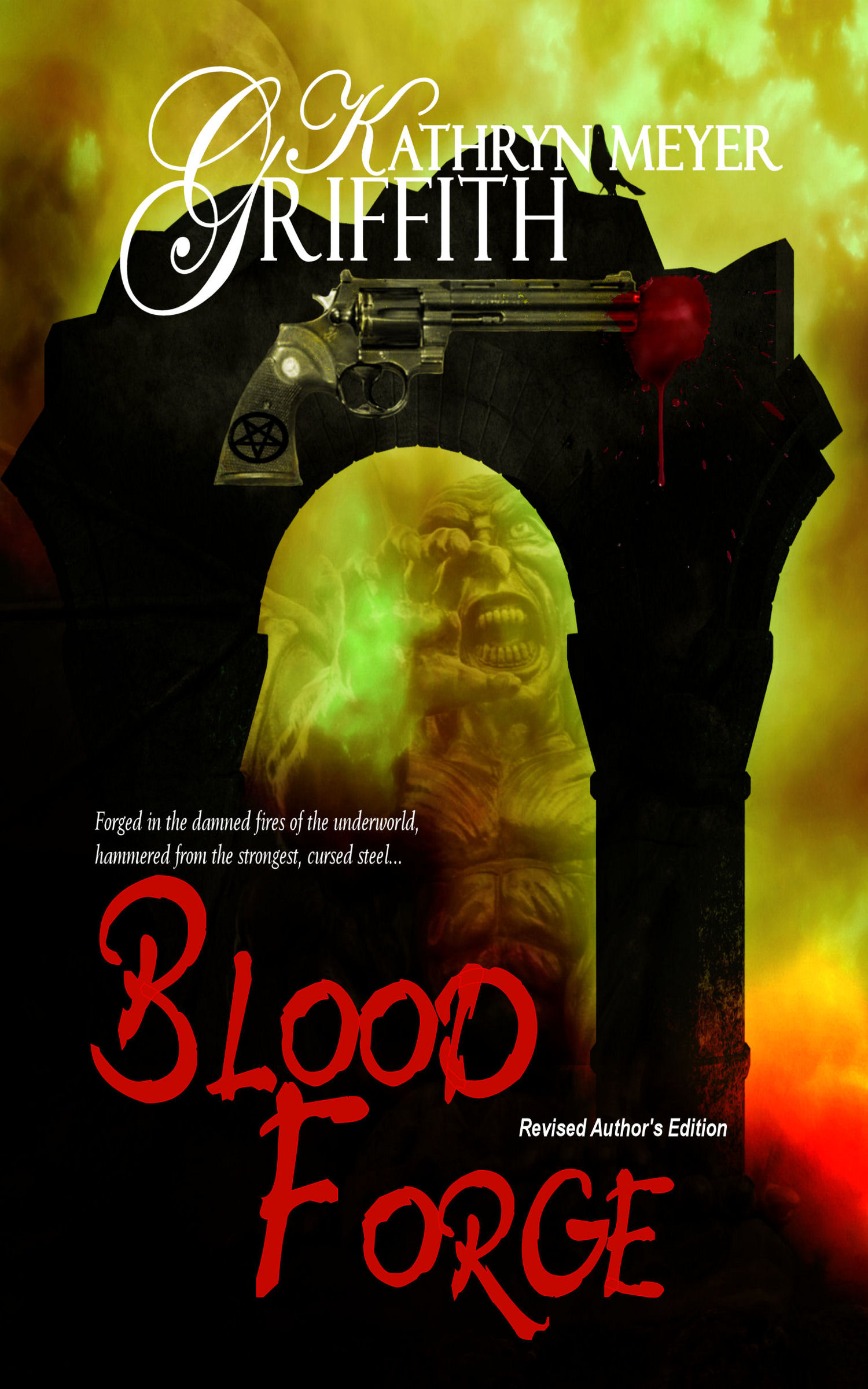 That plot about following a gun on its deadly rampage has been used many times since in television shows and stories, but I'd began thinking about the book as early as 1983, so, perhaps, I was the first. Who knows?

Which brings me now to what happened after I turned the book in to the publisher. My editor for my first two books, Jane Thornton, read it and refused to editor it. Turned it down flat, saying she despised guns. They killed people. Guns bad. They scared her. She wouldn't edit such a story, sorry.

I don't remember exactly what happened after that. It was a long time ago. I think either Jane Thornton left Leisure or she gave the book to another editor, a man called John Littel.

Anyway, he liked the book, gun or no gun, and they offered me a contract on it anyway. I was thrilled. Wasn't thrilled with the title, as I said, though, and I wasn't impressed with the cover, embossed or not. Too dark. A snake coiling around the barrel of a menacing gun on a black background. Along with the title, I felt it didn't portray what the book was entirely about. The novel was a love story, a survival against great odds, a parable of faith, tale. A story of a man's fight with alcoholism and how his wife's love helps him beat the insidious influence of the alcohol as well as the gun. It was about cops, their lives and their families. But, as with the title, I had no choice on the cover and had to take what they gave me. That's just the way it was back then. I still feel that's part of the reason the book never did well in its first incarnation. I was still an unknown writer and when that's the case I've found that the cover and title–how compelling they are–makes a difference in the sales.

At this point, I must admit, after having just finished rewriting it…it was a very dark book written at a very dark time of my life. The darkest, I think, of all my books. I had gone through a divorce, remarriage and was juggling a full time job and a family. Trying to write at night. It was actually difficult for me to relive most of it. I was still in that early part of my career, still young without enough life experience, where I'd embed what I'd lived through and saw around me into my stories. I didn't have the maturity yet to write anything too layered.

Anyway, the book came out in 1989 and didn't do as well as my first two books. I noticed that the publisher turned cool towards me after that and, seeing the way the wind was blowing, I went on to get an agent and she helped me jump up another rung of the ladder when she sold my next four books to a bigger publisher, Zebra Books (Kensington Publishing). And I left Leisure behind; and my three books there went out of print long ago.

But now, 23 years later Blood Forge-Revised Author's Edition (wish I could change that title but it wouldn't be fair to people that already read the original book) is coming out again in print, and in eBooks for the first time ever, in March 2012. I love the cover this time. My fantastic cover artist, Dawne Dominique, who did eleven of my other new covers, did this one, too. It's stunning.

So that's the story of Blood Forge. My second published novel. It, along with my older novels (12, plus a novella and a short story) will all soon be out again. And when the last old book from 1984, Evil Stalks the Night-Revised Author's Edition, comes out in July 2012, my forty year writing career will have come full circle. It's amazing. I guess a book never dies, huh? I guess not.

****

A writer for 40 years I've had 14 novels and 8 short stories published with Zebra Books, Leisure Books, Avalon Books, and the Wild Rose Press, since 1984. And my romantic end-of-the-world horror novel THE LAST VAMPIRE-Revised Author's Edition is a 2012 EPIC EBOOK AWARDS FINALIST NOMINEE.

My books (most out again): Evil Stalks the Night, The Heart of the Rose, Blood Forge, Vampire Blood, The Last Vampire, Witches, The Nameless One short story, The Calling, Scraps of Paper, All Things Slip Away, Egyptian Heart, Winter's Journey, The Ice Bridge, Don't Look Back, Agnes novella, In This House short story, BEFORE THE END: A Time of Demons, The Woman in Crimson, The Guide to Writing Paranormal Fiction: Volume 1 (I did the Introduction)

***

Blurb:

Blood Forge–Author's Revised Edition

An ancient snake-demon lays trapped behind the stone walls of an Incan prison, for centuries demanding blood sacrifices and scheming to escape. Then it discovers a pathway into the world of men, forging itself into a malevolent 357 Colt Python, and making itself capable of incomparable destruction and misery. Through decades it torments, decimates, the unfortunate people whose lives it comes into until a loving married couple, Emily and Sam Walters, have enough love and faith–and the help of a mysterious priest who's much more than he appears to be–to fight against and destroy it forever…and to send it back to hell where it belongs.

***

Gary W. Olson is the author of the dark fantasy novel Brutal Light and several previously published and forthcoming short stories. He can be found via his website, his blog A Taste of Strange, as @gwox on Twitter, and in many other far-flung places on the Internet.