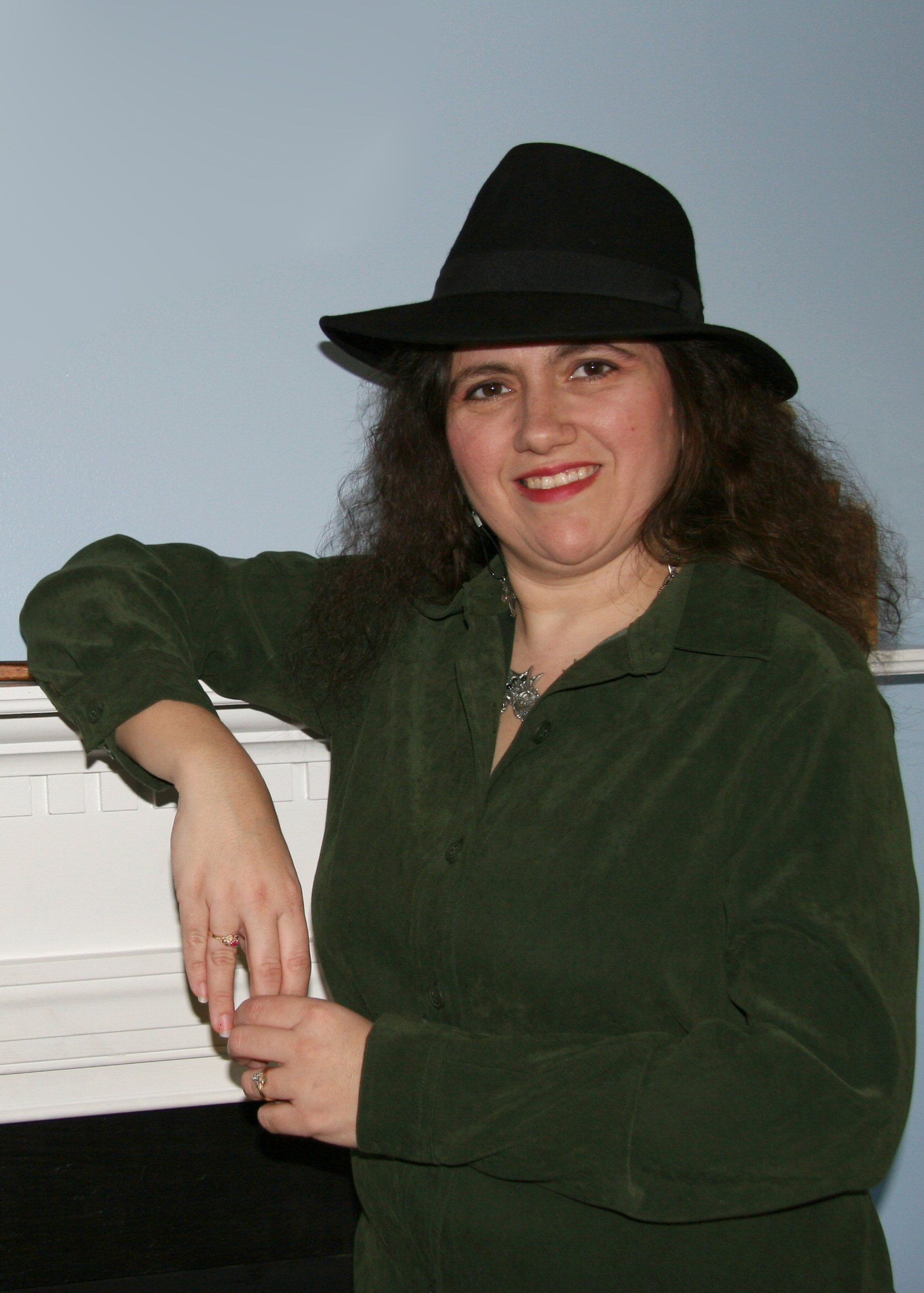 Good morning! Karina Fabian is over here today, talking about her new book from MuseItUp Publishing, Live and Let Fly. Welcome, Karina!
1. Tell us about yourself, and what drew you to writing.
I'm a pretty ordinary person, living a quiet, contented life with a loving husband and four great kids. However, I have a brain crowded with characters who live far more interesting lives than I ever will. (Mind you, they also experience a lot more pain and stress, so I am not looking to trade.) I write their stories in order to get them out of my head before it explodes, and because I love their adventures so much, I want to share them.
2. Tell us about your latest book, Live and Let Fly.
For those that don't know Vern: Vern is a dragon who had a run-in with St. George. As a result, he's serving God and His creatures to earn his dragon powers and prowess back. Right now, for reasons God only knows, he's doing that in our world as a private detective. Sister Grace, a nun and mage from Faerie, is his partner. They do everything from find lost cats to save the Mundane and Faerie worlds from demigods seeking to gain power in the Mundane.
This time, however, they face their biggest challenge. When the mugging of their friend, Herald Charlie, points to interdimensional intrigue, they are co-opted into a secret government agency to uncover and stop the plot. Vern's excited to play dragon-oh-seven, but they will have to face manaical middle managers with attack robots and killer board games as well as the darker side of the Norse pantheon. Even more fun, they will have to do so where their magical abilities are limited–and Vern will have to do some of the mission as a human.
Live and Let Fly spoofs the super-spy genre with outrageous villains and complex schemes, damsels in distress, exotic locations, and as many twisted cliches as I could pack into a 98,000-word novel.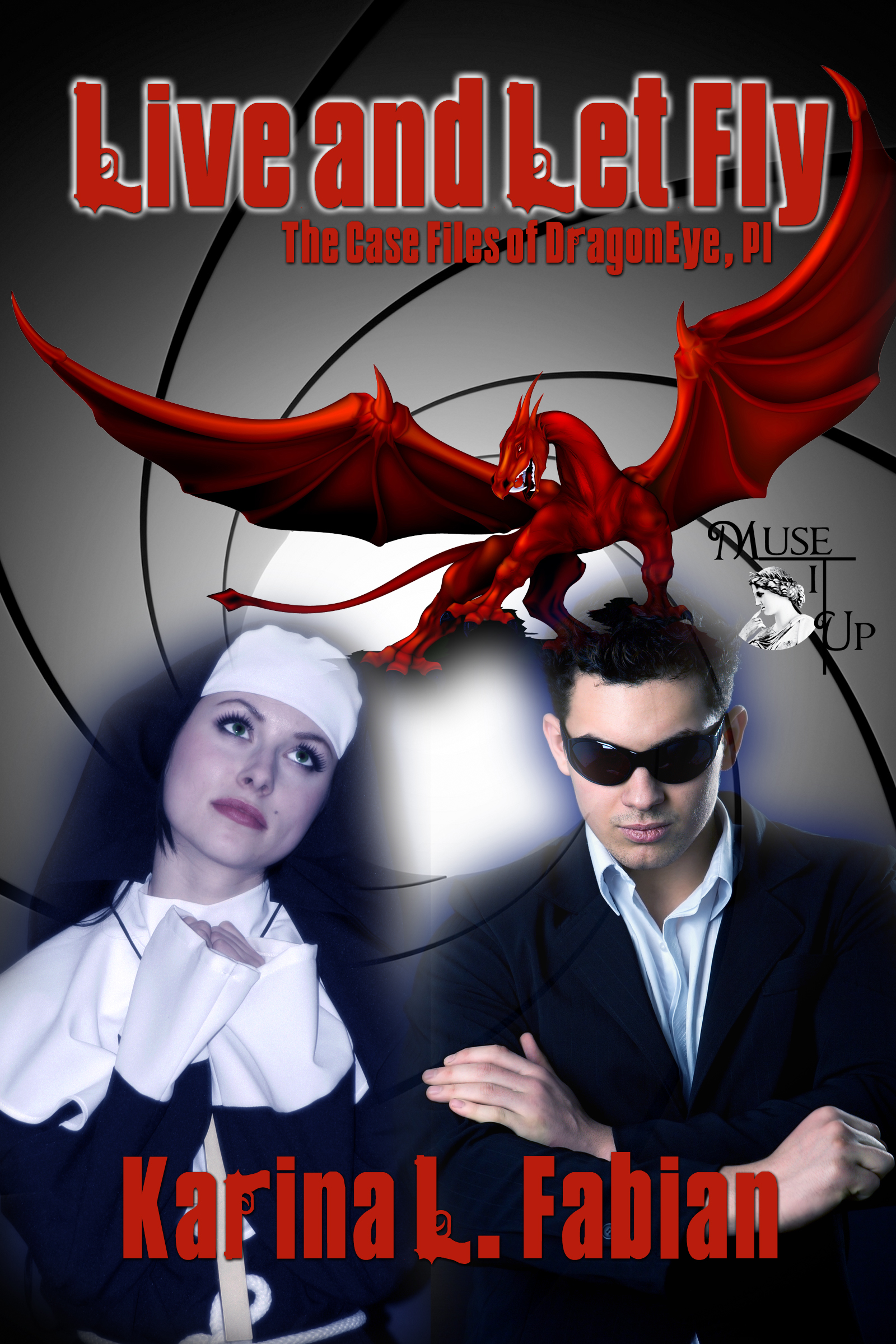 3. You've said in other interviews that your characters drive your stories. Having been through one book with this crew of characters (2009's Magic, Mensa, and Mayhem), were you more prepared for the directions they would go, or did they still surprise you?

They always surprise me–and sometimes, they get stubborn. Remember Rhoda Dakota, the child star in Magic, Mensa, and Mayhem? (Vern gets her autograph for Charlie, who is a big fan.) Charlie and Rhoda are getting engaged in Live and Let Fly. She was supposed to be the plucky get-it-done sidekick; the shtick I intended was Vern and company bumble around because they don't understand all the Mundane technology, but since she does, she gets the job done.

She absolutely refused to play sidekick. She wanted to be damsel in distress for "her Charlie." I could not write the scenes that would make her helpful. Once I gave up, she got herself kidnapped, while wearing a silver sequined dress and $500 shoes, and was handcuffed to a bed, trying to be brave and confident that "her Charlie" would rescue her. How cliche is that?

It worked out great! Charlie and Vern made a great team–very different from Vern and Sister Grace–and once he'd save her, she showed some pluck, and even turns around and rescues them later in the book.

4. What are your thoughts on the future of books?

They will be legion. They will be funny–and serious–and fun…

Or did you mean "books" in general? Electronic books will continue to take a bigger and bigger share of the market. Bookstores are going to dwindle, though I don't see them disappearing entirely. It's going to be harder to find the real gems among all the books being published. I'm wondering how people will be doing that, other than word-of-mouth or big campaigns.

5. What do you find toughest about being a writer, and how do you get past it?

I have difficulty getting started and doing visual scenes. I get over this by giving myself permission to write lousy prose at first, knowing I can fix it later once I have it written down.

6. Beyond writing, you also conduct seminars on various aspects of writing and marketing. What of these topics has drawn the greatest interest, and what important areas are most overlooked?

People are always looking for the magic spell of marketing (or of writing really well). Problem is, there isn't one. It's a combination of skill, talent and perseverance. I think perseverance is the most overlooked area. Some people submit their work to a hundred agents or publishers before getting a contract. Marketing has to be done consistently. I had started a newsletter on my website, 30-Minute Marketer, which breaks marketing down into weekly tasks. I was doing it for donations, but they dried up, so I may make it into an e-book unless I can learn to automate it for subscription. The first eight issues are up at http://30minutemarketer.karinafabian.com. If donations start up again, I'll resume publishing them.

7. Who would be the perfect reader of Live and Let Fly?

If you loved Hitchhiker's Guide to the Galaxy or the MYTH, Inc., books you'll it. If you like the spy genre and enjoy a spoof, you'll enjoy it. If snorting drinks out your nose bothers you…don't drink while reading it, but highlight parts to read aloud when your friends are drinking. 😉

8. What's next for you, if you can share it?

The next DragonEye, PI book will be Gapman, in which mild-mannered entertainment reporter, Ronnie Engleson, gets superpowers after falling into a vat of magically created toxic waste, being bitten by a radioactive fairy and getting struck by lightning. (It was a really tough day for him.) Vern gets the annoying duty of training him. I have some of the scenes written, but am still working on the big villain.

***

Blurb:

For a dragon detective with a magic-slinging nun as a partner, saving the worlds gets routine. So, when the US government hires Vern and Sister Grace to recover stolen secrets for creating a new Interdimensional Gap–secrets the US would like to keep to itself, thank you–Vern sees a chance to play Dragon-Oh-Seven.

No human spy, however, ever went up against a Norse goddess determined to exploit those secrets to rescue her husband. Sigyn will move heaven and earth to get Loki–and use the best and worst of our world against anyone who tries to stop her.

It's super-spy spoofing at its best with exotic locations (Idaho–exotic?), maniacal middle-managers, secret agent men, teen rock stars in trouble, man-eating animatronics, evil overlords and more!

***

Bio:

If there's such a thing as ADD of the imagination, Karina Fabian has it–in spades. Craft books, devotionals, serious science fiction, comedic horror and chilling fantasy–she follows her interests and the characters that tell her their stories.

Even before she could write, Karina strung tall tales about everything from making human pyramids in Kindergarten to visiting alien worlds. Her first attempt at novel writing was in fourth grade; she completed her first novel in college. However, her first published work was an anthology of Christian science fiction, Leaps of Faith, an EPPIE finalist for best anthology in 2006. Her next anthology, Infinite Space, Infinite God, featured Catholic characters and themes and won the EPPIE for science fiction. The second Infinite Space, Infinite God anthology came out in 2010.

Watching the comedy improve show, Whose Line Is It, Anyway, inspired her noir-style dragon detective, Vern. Vern and his partner, Sister Grace, have solved mysteries and saved the Faerie and Mundane worlds numerous numerous times in the DragonEye, PI stories and novels. Their serial story, World Gathering, won a Mensa Owl; and the novel, Magic, Mensa and Mayhem (Fabian's first published novel), won the INDIE for best fantasy in 2010.

At a friend's request, Karina wrote a funny story about a zombie exterminator, which grew into the Neeta Lyffe, Zombie Exterminator novels. The first, Neeta Lyffe, Zombie Exterminator, won the 2011 Global E-Book award for best horror.

She also writes serious science fiction. Her first SF novel, Discovery, is currently under consideration, and she's working on a second on, The Old Man and the Void, based loosely on Hemingway's The Old Man and the Sea, but taking place in the accretion disk of a black hole.

Karina has a strong faith, which she explored in her devotional, Why God Matters: How to Recognize Him in Daily Life, which she wrote with her father Steve Lumbert, and which won the 2011 Christian Small Press Publisher Award. She also writes Catholic school calendars and has written three craft books for the Little Flowers/Blue Knights clubs.

Fabian is married to Colonel Robert A. Fabian of the USAF. They have four children, a dog and a cat. When not writing, teaching writing, or chatting about writing, she's hanging out with her kids or swinging a sword in haidong gumbdo.

***

Excerpt:

Charlie started to close the door behind us, his other hand gripping the handle of his dagger so tightly I could hear the leather wrap on the handle strain, as we listened to the footsteps coming our way, slow, bored. My predator's instincts rose; then I had a great idea. I shook my head at Charlie and winked, and he shuffled out of my way, leaving the door ajar. I settled myself with my back to the door, just inside the shadows and let the script play itself out:

CLUELESS MINION enters Stage Left. He pauses, hearing a noise, but does not report it. Instead, he fondles the stars on his nametag and moves toward the empty hallway, his mind on adding another. (Probably saying, "I was proactive today!")

CLUELESS pauses at door, hesitating. He stands and, back to the door, reaches for his walkie-talkie.

Suddenly, a well-muscled and gorgeously scaled tail whips out from the crack in the door and wraps itself around his neck. He only has time to grab ineffectively at the tail before he's drawn into the darkness. The door shuts behind him.

Pan shot of the empty hallway.

FADE TO BLACK

I slammed my victim on the floor and pinned him with my forelegs, then I leaned my face in nice and slow, making sure he got a good look at my fangs before he saw my eyes. "Where's the girl?" I growled low and menacingly.

"Wh-What g-g-girl?"

Charlie crouched down by Stutterboy and glanced at his nametag. "Look, Philip, we're in a bit of a hurry. We know Rhoda Dakota's being held captive somewhere nearby. Now you can be a good survivor and tell us where…or you can be dinner."

"I-I don't–"

"Phil A. Minion." I mused and drooled a bit for effect. I live for these moments, I really do. I licked his cheek and asked Charlie, "Can I have fries with that?"

"Why not? This is Idaho."

***

Find Karina at:

Website: http://fabianspace.com, http://dragoneyepi.net
Blog: http://fabianspace.blogspot.com
Facebook: https://www.facebook.com/karina.fabian
Twitter: http://twitter.com/#!/KarinaFabian
Google +: https://plus.google.com/103660024891826015212

See the book trailer: http://youtu.be/-mqTplSrGuE


Find Live and Let Fly at: http://dragoneyepi.blogspot.com/p/live-and-let-fly.html

***

Gary W. Olson is the author of the dark fantasy novel Brutal Light and several previously published and forthcoming short stories. He can be found via his website, his blog A Taste of Strange, as @gwox on Twitter, and in many other far-flung places on the Internet.