Gary W. Olson – Biography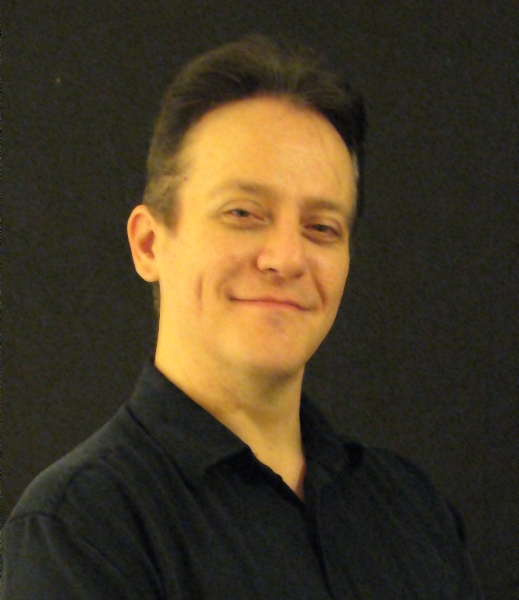 I suppose I ought to write something here. I wouldn't want you to think that I was an enormous, sentient computer from the Andromeda galaxy merely masquerading as a human to lull your suspicions until the time when my armada of conquering robot arachno-weasels reach Earth. No, that wouldn't do at all.
So. The basics. I'm an early-forties, tall-looming, book-reading, cat-serving, Michigan-living, cheese-eating, beard-lacking data warehouse analyst (my day job) and writer of speculative fiction (the focus of this website). This speculative fiction tends to blend aspects of the genres of science fiction, fantasy, dark fantasy, and horror, if only because I don't believe that the boundaries of these genres are or should be all that firm in the first place.
I grew up in Davison, a suburb of Flint, Michigan (in the United States). Though my love of reading and sci-fi began early, it was not until late in my high school years that I made my first attempts at writing stories (which are, thankfully, lost to the mists of time). However, while attending Central Michigan University (from which I graduated with a Bachelor's degree), I started writing for a shared-universe fiction list called Superguy… a lot. And while much of my early stuff is kind of juvenile, it gave me a platform where I could continually write and improve, to the point where I realized that writing was something I truly loved to do, and would do for the rest of my life.
By day, I work as a data warehouse analyst for a Lansing-area company. In 2001, I married Kristyn, a wonderful woman (and freelance photographer) who has enriched my life and put up with my puns. We currently live in a suburb of Detroit with two cats and an indeterminate number of hairballs.
My first novel, Brutal Light, was published by Damnation Books on December 1, 2011. I have self-published some e-stories. Another story, "Goldilocks Zone," was published in September 2012 in the dark fiction anthology Fading Light: An Anthology of the Monstrous, edited by Tim Marquitz, published by Angelic Knight Press. In 2010, I started up GaryWOlson.com to promote my writing and to connect with readers and other authors. My blog on this site contains further information on my works, my thoughts on various aspects of writing and genre, and whatever else I can wring from my neurons on a given day.
I am not a taco.